The Garden Club of Trinidad
Bringing together garden enthusiasts to share their knowledge, interests and enjoyment of gardening.
Saturday 24th June '23
Gerard Farfan (AGM)
Showbench – Cut Ixora Flowers

The Garden Club hosted a Tea & Garden Party on Sunday 26th March at Mille FLeurs, Savannah West.  A delicious tea was served and there were entertainment & prizes.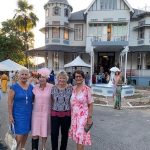 Donations
• The Garden Club donated $3,291 towards The Promise House TT – a home away from home for pediatric cancer patients
• We also donated $5,000 to the  TTSPCA
• During the pandemic,  a number of electronic tablets was donated to The Four Roads Government Primary School.
Tree Planting Ceremony
The Minister joined the Citizens for Conservation and the Garden Club of Trinidad on Saturday 19th August for a Tree Planting Ceremony, which was part of the 200th Birthday Celebration of the Queen's Park Savannah.
" We can complain because rose bushes have thorns, or rejoice because thorn bushes have roses."